I have a confession
My white/grey/silver hair is not natural. It is completely artificial by my bestie and hairdresser Cameron. I wrote the full story some time ago, and you can catch it here.
This year, putting together Launching into Leadership and my other online programs involved months of filming my white face and white hair against a white wall. All this had me pining for a change. I tried those flash virtual backgrounds with limited success - the artificial intelligence couldn't tel…
The one thing I could do all day, every day, is to listen to people tell their stories. To sit on my coaching couch and talk to clever women about their successes, their fears, their joy and the places at which they get stuck. Most clients will go through the motions with me but the clients I could spend all day with are the ones who are prepared to go all-in, get uncomfortable, receive feedback, question it in their own head, fight it and push through to a new solution.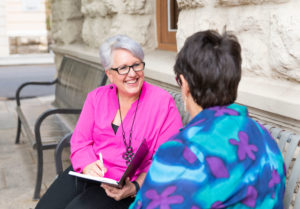 I love it when it g…
My younger self knew everything.
Absolutely everything.
You ask her any question and she had an answer.
She was lashings and lashings of FIG JAM*.
Even when she didn't know she was never going to admit it. She was the epitome of a fixed mindset, using all her energy to defend her all-knowing reputation.
To be clear she was clever, quick to learn and curious.
But this was her armour and not her gift.
It stopped her and her team being all they could be.
This was not leadership this was fea…